10 Farmhouse Garden Decor Ideas
This post may contain affiliate links. Read my full disclosure policy here.
If the inside of your house is decorated with farmhouse-style decor then why not carry it outside to your garden? This will keep both the inside and outside of your home and garden decor cohesive.
Every time I am in a cutesy country store or in a boutique, I always see something that I would want for my garden decor but I can't buy everything! So I put together a list of 10 farmhouse garden decor ideas that can be bought online, and if you are feeling creative some could be DIY. Plus some or all of these also, make great farmhouse gift ideas for friends and family that love the farmhouse-style decor.
10 Farmhouse Garden Decor Ideas
When I think of garden decor I don't strictly mean for your vegetable garden but your backyard in general. This could include your flower or vegetable garden or any garden decor for your front and/or backyard, including garden decor accents for your garden beds.
The glory of gardening: hands in the dirt, head in the sun, heart with nature. To nurture a garden is to feed not just the body, but the soul. – Alfred Austin

1. Metal Garden Gate Cottage Planter
This garden gate cottage planter is the perfect showcase accent piece to display in your garden. It will add some country charm to your lawn and garden decor.
This planter is made of metal, can either sit or be hung, and measures 19.5" x 26" H.
Display this on your front or back porch with some flowers or greenery.
2. Wood Base Tray Planter
This wood base tray planter is perfect for either your indoor or outdoor garden. You can grow herbs or simply plant your favorite flowers with ease in your outside garden. This planter is also perfect to place in your kitchen garden window.
You get a set of two wood bases that hold three terra cotta pots that are included and they measure 12.5" x 4" x 3.5" H each.
3. Antiqued Copper Frog Water Fountain
I love the sound of water in my backyard, and this antiqued copper frog water fountain is just the right piece to give your garden decor some rustic charm.
This is made of iron, includes a 72-inch cord, a submersible pump and measures 15" x 14" x 10.5" H. Oh, and the frog's mouth opens to release water.
4. Vintage Inspired Kissing Bench
Oh wow! I love this vintage inspired kissing bench and I have only seen them in the movies. I think this is a must-have for any farmhouse garden decor as it adds just the right amount of country farmhouse charm. Plus it gives you somewhere to sit and enjoy your garden.
This features heart shape details along the top of the bench, is outdoor safe, made of metal, and measures 44" x 24" x 30.5" H.
This would also look great on your front porch or even displayed inside your home.
5. Garden Gnome Statue
Every garden needs a welcome sign and this garden gnome statue is so very cute! Plus it's solar and will light up your garden at night.
The garden gnome is weatherproof, measures 8.1"L x 4.4"W x 13.2"H and is painted by hand.
Place this little guy on your porch or the entrance to your garden to make everyone feel welcome.
6. Rustic Wooden Wishing Well
This wishing well planter is perfect to add to my list of 10 farmhouse garden decor ideas as I have always wanted a wishing well as part of my lawn and garden decor!
This wishing well is made of wood that is durable and has a rustic look. It has two planters, one hanging bucket as well as the base of the wishing well. The overall measurements are 21.5"(L) x 21.5"(W) x 45.5"(H).
This will make the perfect garden decor accent or focal point to your backyard garden.
7. Hanging Bird House
I love to listen to the birds while sitting outside, so this hanging birdhouse is the perfect choice for your farmhouse garden decor.
It features a rustic look by using distressed paint and metal and has a ring at the top of the roof for hanging. I also love the heart on the front!
This bird house will add some rustic charm to your backyard and would be perfect hanging from a tree or shepherd's hook.
8. Watering Can With Lights
Some of my favorite farmhouse garden decor accents are watering cans, lanterns, sunflowers, and solar lights. So when I saw this watering can with lights I had to add it to my list as it encompasses some of my favorite things.
The watering can has solar lights and includes a shepherd's hook to hang the watering can from. This can also be placed on a table if you don't want to hang it.
I also love how it is displayed in the image and want to get one as well to hang over my flower garden. This will have your garden looking so pretty at night!
9. Mason Jar Tea Light Candle
To me, mason jars scream farmhouse accent and are a must-have for your garden decor as they add so much rustic charm. Plus there are so many different ways to decorate with them and lot's of different DIY projects that can be done with mason jars.
This mason jar lantern is made of iron and glass and measures 4" x 7" H (tea light candle not included)
Place this mason jar lantern outside on your patio table or even hanging from a shepherd's hook. If hanging it would be good to use a flameless tea light candle. This would also look great inside your house.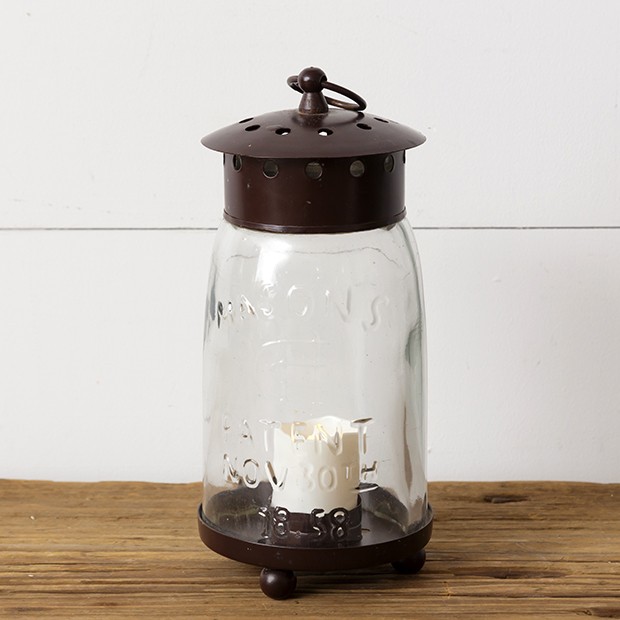 10. Galvanized Windmill Yard Stake
My last farmhouse garden decor idea is this galvanized windmill yard stake. I like the way windmills look and really make a great lawn and garden decor accent.
This windmill is made of metal and has an antique look as it's made with a patina that is aged. It measures  22.05"L -4.33"W -68.5"H and weighs 2.2Lbs.
Place this in your garden bed, back or front yard, or even inside as a farmhouse wall accent.
There you have it! My 10 farmhouse garden decor ideas that can also be given as farmhouse gifts to your friends and family that love to garden! There are so many more lawn and garden decor accents that I want to add, so as I see new items I will update my post to include them.
DIY Garden Decor Ideas
There are so many great DIY garden decor projects that can be done very inexpensively and sometimes with things you may already have around the house. Many of the DIY projects involve solar lights but no need to worry because you can buy them at Dollar Tree.
Below are some DIY garden decor ideas.
Decorative Bird Feeders
Window Flower Boxes
Solar Butterfly Garden Light
Homemade Garden Markers
Decorative Watering Cans
Bird Baths
Wind Chimes
Garden Stakes
Succulent Planter
Galvanized Garden Planter
Garden Fountain
Candelabra Solar lights
Garden Flowers
Decorative Garden Balls
Mason Jar Lanterns
Wooden Picture Frames
I could keep going and going with DIY Garden Decor ideas but I want to save some for later. Many of these I have already made or will be making, so check back to see how my DIY garden decor projects look.
Want to save this post? Be sure to pin this 10 Farmhouse Garden Decor Ideas post and save it for later!